In the fast-paced world of online shopping, brands need to consider any opportunity that can be leveraged to gain shoppers' attention. One tool that Amazon offers to increase engagement is Amazon Posts. This tool is essentially a social media feed native to Amazon, which can help your brand reach more people, engage customers, and increase sales.
In this comprehensive guide, we'll explain how to use Amazon Posts, whether you're just starting out or want to improve your current marketing efforts. We'll walk you through the basics of Amazon Posts, how to create posts that get people's attention, how to track your Amazon Posts metrics, and offer a number of Pro Tips and Key Statistics throughout.
Ready to grow your Amazon business? Let's get started!
What Are Amazon Posts?
Amazon Posts is a social media-like feature that allows brand owners to share content with their audience on Amazon's mobile shopping app and selected product detail pages. This innovative feature replicates the experience of browsing a social media feed, enabling customers to discover new products and brands in a familiar, engaging format similar to TikTok, Instagram, and Facebook.
Each post is comprised of an image, featured product, a caption, and your brand logo, providing a unique opportunity to highlight your products in a more personalized and relatable way. But why should brands take advantage of Amazon Posts?
Amazon Posts is a potent tool that enhances product visibility, allowing a wider range of customers to discover your products. By consistently posting engaging content, brands can foster a stronger relationship with their customers, cultivate loyalty, and drive conversions.
Where do Shoppers See Amazon Posts?
Brand Posts on Amazon Product Detail Pages: A brand needs at least 10 live Posts in order to be eligible for their posts to show on their own Product Detail Pages.
Brand Feed within a Brand's Amazon Store: The Brand Feed is also known as the "Posts" store page. This page is a scrollable feed including all Posts a brand has made.
Related Posts on another Brand's Product Detail Page: Posts from your brand may show up on another brand's product detail pages when your post highlights a relevant competing or complementary product.
Category Posts Feed: If a shopper clicks into a category feed, and your posts include that category tag, your post may appear along with posts from other brands in the same category.
Related Posts Search Page: Category feeds have a search function. Your posts could show up in the search results when relevant.
The Anatomy of an Amazon Post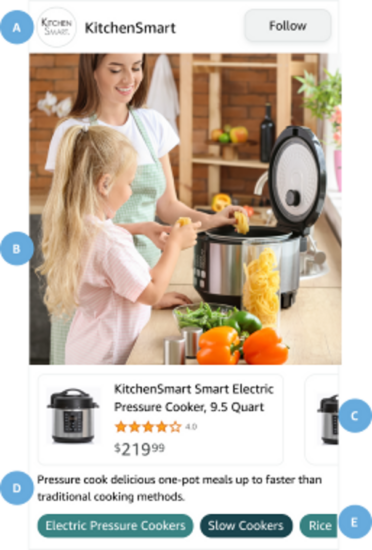 Each Post Contains 5 Core Elements:
Profile banner: This banner showcases your brand name and logo, as registered with Amazon Brand Registry.
Custom image: Use a custom image to showcase product features and tell your brand's story on Amazon.
Product cards: These cards provide important details such as price, star rating, and Prime eligibility.
Caption: Your caption should highlight product features, branding, and include a call to action to encourage engagement.
Category tags: Amazon generates tags that connect your posts to relevant product categories, making it easier for potential customers to find your products.
Bonus Element: Each post also contains a "Follow" button in the top right corner. This is properly referred to as the Amazon Brand Follow button. Followers generally see more content from your brand – including Posts, Amazon Storefront updates, and emails from the Manage Your Customer Engagement (MYCE) tool.
How to Get Started with Amazon Posts
Now that you know what an Amazon Post is, you need to learn how to create an Amazon Post so you can start showcasing your products and engaging with potential customers.
Here's a step-by-step guide to help you get started:
Step 1: Sign in to Your Amazon Seller Central Account
You'll need to be a registered brand owner to create Amazon Posts. Log in to your Amazon Seller Central account. If you aren't a registered brand owner, you'll need to apply for Amazon Brand Registry at brandregistry.amazon.com before you can use Amazon Posts. See our Blog on Brand Registry for more information
Step 2: Access Amazon Posts
After signing in, navigate to Advertising > Campaign Manager > Brand Content > Posts section.
Step 3: Profile Creation
Before you can start posting, you'll need to create a brand profile. This will include your brand name, brand logo, brand tags, color, and description. Be sure to make your description engaging and compelling to attract potential customers.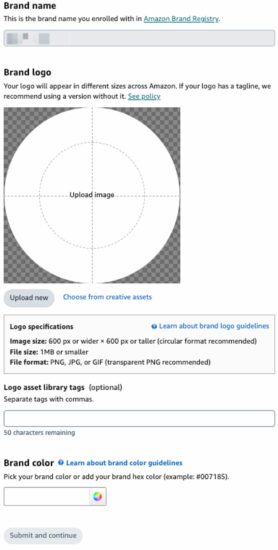 Step 4: Create Your Post
Now, you're ready to create your first post. Click on the "Create Post" button. It should bring you to a blank template like the one below.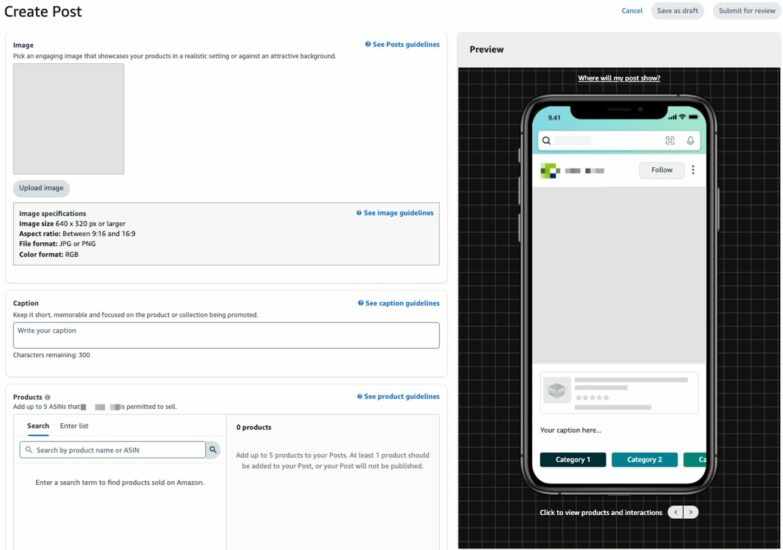 Step 5: Upload an Image
Choose a high-quality image that accurately represents the product you're showcasing. This could be a product image, lifestyle shot, or even a user-generated photo. Remember, this image is what will catch the viewer's attention, so make sure it's clear and appealing.
Pro Tip: 90%+ of shoppers view Posts on a mobile device, so we recommend using a Square or 4:5 vertical aspect ratio. Keep it simple & let the products speak for themselves. Use high quality lifestyle images that show your product in relevant settings. Do not crowd your images with text and infographics.
Step 6: Write a Caption
After you've uploaded an image, it's time to write a caption. Make your caption informative, engaging, and concise. It should provide value to the reader and motivate them to engage with the post or check out the product.
Pro Tip: Captions should be less than 300 characters. They should include relevant keywords, and can also include #hashtags, 🦏 emoticons, and even abbreviated text, like "L8T Night at the office?". When using Calls to Action be clear, concise and relevant to the product. Amazon will not approve posts with vague or time sensitive CTA's such as "Click Here" or "Buy Now".
Step 7: Select a Product
Next, you'll need to select the product you want to associate with your post. This should be a product that is featured in your image.
Pro Tip: Tagging 3 to 5 products to showcase product collections in your posts can help maximize engagement and increase visibility. Brands that tag 3 to 5 products see an average of 37% more clicks compared to those that tag only 1 or 2 products. Additionally, create regular posts for top selling products which garner 82% more clicks than other products.
Step 8: Preview Your Post
Before you publish, take a moment to preview your post. Make sure everything looks good, the information is accurate, and there are no spelling or punctuation errors.
Step 9: Publish Your Post
If everything looks good, click "Publish." Amazon will review your post to ensure it complies with their guidelines, and if approved, it will be published on your brand's feed and product detail pages.
Pro Tip: Schedule your post at least 72 hours from the current date or select "published upon approval" to ensure time for Amazon's moderation team to review.
Step 10: Monitor and Analyze
After your post is live, use Amazon Posts' built-in analytics tools to monitor its performance. Track engagement rates, reach, and click-through rates to understand what's resonating with your audience and optimize future posts.
Elements of an Engaging Amazon Post
So you have your first post – that's great! But what's next? Let's explore how to create effective posts that command attention.
Creating engaging Amazon Posts is an art form that requires strategy and creativity. It's not just about showcasing your products; it's about conveying your brand story and connecting with your audience. Here's how:
Compelling copy: The heart of an effective post lies in its caption. It should be succinct yet descriptive, piquing the reader's interest and prompting them to engage with your post. Infuse your brand voice into your captions, ensuring they resonate with your target audience.
High-quality images: The visual aspect of your post plays a crucial role in attracting attention. Images should be high resolution, visually appealing, and ideally showcase your product in action. Lifestyle images can provide a relatable context, encouraging customers to envision how your product fits into their lives.
Keywords and hashtags: Similar to SEO practices, use relevant keywords and hashtags to make your posts easily discoverable. This will also contribute to improved visibility for your products on the platform.
Call To Action (CTA): Although Amazon Posts do not directly allow traditional CTAs, your captions can subtly guide the reader to explore the product, learn more about your brand, or check out similar products. This persuasive communication is instrumental in driving conversions.
Strategies and Best Practices for Amazon Posts
Crafting Compelling Content: Remember, Amazon Posts should not only highlight your products, but also provide value to potential customers. Use a mix of product-focused posts and informative, educational posts that can help shoppers make informed purchasing decisions. This approach enhances your brand's credibility and encourages audience engagement.
Exploring User-Generated Content: Encourage happy customers to share their experiences with your products on their social media channels and offer to feature these posts on your Amazon feed. This type of content not only validates your products but also provides authentic experiences that resonate with potential customers.
Product Comparisons: Help shoppers understand why your products stand out by comparing them with common alternatives in the market. Highlight what makes your product unique and why it's a great choice.
Leveraging Seasonal and Trending Themes: To increase relevance and engagement, create themed content around major events such as Black Friday, Christmas, Valentine's Day, or Back to School seasons. Tailoring your content to what's happening in the world can also create a sense of community and familiarity among your followers.
Collaborating with Influencers: Influencer marketing is not confined to TikTok, Instagram and YouTube. Engage relevant influencers in your industry who can create compelling Amazon Posts, giving your brand exposure to a wider audience. The key here is authenticity – ensure the influencers genuinely appreciate your products.
Consistency: Keep a regular posting schedule to maintain visibility and engage your audience. Amazon recommends posting at least 3-5 times per week, which is similar to other social media platforms.
For optimal customer engagement, we suggest posting a minimum of 10 times per month. According to our research, brands that post 10 or more times per month have on average 154% more followers than those who post less frequently. You can use the Posts publisher's scheduling feature to create a batch of posts that will go live at a later date and help you maintain a consistent posting schedule.
Consistent posts also signal to Amazon's algorithm that you're an active seller, which can potentially boost your visibility.
Timing: Maintaining results with Amazon Posts requires consistent posting, but timing or time of day is also crucial. Understanding your target audience's behavior and tailoring your posting schedule to coincide with their peak shopping times can significantly increase engagement and conversions. Ideal times to post can be determined by testing different times of day consistently and analyzing results through the Posts Analytics dashboard.
Analyzing and Monitoring Amazon Posts Performance
Understanding the performance of your Amazon Posts is crucial for optimizing your strategy and increasing engagement. Amazon provides several key metrics – impressions, clicks, and engagement rate – that give valuable insights into how your audience is interacting with your posts.

Here's a deeper dive into these metrics and why they matter:
Viewable Impressions: This is the number of times at least 50% of the post was on screen for 1 second or longer. A high number of impressions means your post is being seen by a lot of people, which is a good start. However, impressions alone don't give you the full picture of your post's performance. You need to consider other metrics to understand if those views are translating into meaningful engagement.
Reach: The number of unique customers who saw your posts. Viewable Impressions are typically higher than Reach, because a single customer can see a post multiple times.
Engagement: The number of times a customer performed any type of click on a post. More clicks generally mean that your post is interesting and compelling enough to make users want to learn more about your product or brand.
Engagement Rate: This is a metric, expressed as a percentage, equal to: Engagement divided by Viewable Impressions. A good Engagement Rate across your entire account is 3%-5%. Some posts will have higher engagement rates than others. Track what types of posts get the highest engagement rate for your brand.
Product Clicks: The Number of times customers clicked to a product detail page from a post. If you are getting product clicks, your post was compelling enough to drive a shopper to learn more by viewing your product detail page, which is the minimum action you want a shopper to take.
Clicks to Store: The number of customers clicks to your Store page. Ideally, you want to push shoppers to a well designed and organized Amazon Store page, as sales conversion rates can be higher than Product Detail Pages, and it gives your brand the opportunity to cross-sell other items from your catalog.
Clicks to Follow: The number of customer clicks on the Follow button. Customers can now follow your brand by selecting the new "Follow" button on a post. Your followers see more of your content on Amazon, giving you an opportunity to help increase engagement. Test out adding a "Follow Us for more updates on XYZ Product" CTA in your caption to increase Clicks to Follow.
Accessing these metrics is easy – they are available in the Posts dashboard on Amazon. Reviewing them regularly can give you a wealth of information about how your posts are performing and how they resonate with your audience.
Optimizing Posts with Analytics: For instance, if you notice a post has a high number of impressions but a low Engagement, it might suggest that while your image is eye-catching and generating views, something else isn't quite hitting the mark. Perhaps the caption isn't engaging enough, or the product showcased isn't capturing the audience's interest. Insights like these allow you to tweak your approach, A/B test, and create more effective posts.
The continual analysis and refinement of your strategy based on data is what will lead to better audience engagement and, ultimately, more successful Amazon Posts.
Amazon Posts and SEO
Amazon Posts serve a dual purpose – not only do they function as a social media-like tool for brands on Amazon, but also have significant potential for boosting your product listings' SEO (Search Engine Optimization).
By strategically incorporating relevant keywords into your Amazon Posts, you improve the chances of your products being discovered in Amazon's search results. Keywords are the phrases or words that customers use when searching for products. Using an Amazon Keyword Research tool, like Helium10 Magnet, can help you find right keywords to add in your posts, and align your product with what customers are searching for, leading to higher visibility.
Think of your Amazon Posts as a way to organically boost your products' SEO. Each post is an opportunity to utilize targeted keywords that are related to your product. For example, if you're selling vegan protein powder, your Amazon Post could include keywords such as "plant-based protein", "vegan protein", "gluten-free protein powder", etc.
Common Mistakes to Avoid with Amazon Posts
Low-quality images or poor captions: The pictures you use in your posts need to be clear, bright, and interesting. Bad pictures can make people ignore your posts. The same goes for the descriptions, or 'captions,' you write for your posts. If they're boring or don't make sense, people won't pay attention. Make sure you use good pictures and write interesting captions to get people's attention.
Inconsistent posting: When you post is as important as what you post. Think about your favorite TV show – you know exactly when a new episode comes out, right? It's the same for your posts. You need to create a plan for when to post and then stick to it. This way, your customers will know when to expect new posts from you.
Ignoring analytics: When you put up a post, it's really important to look at how well it's doing. This means checking the analytics regularly so you can understand what your customers like and don't like. It's like a report card for your post. Always remember to check your post's numbers to make sure you're doing things right.
Conclusion
Leveraging the unique power of Amazon Posts can innovatively foster connections with your target market, boost your product visibility, and drive higher sales conversions. By using a strategic approach, maintaining consistent posting schedules, and routinely analyzing key performance metrics, you can significantly bolster your brand's prominence on Amazon.
In this guide, we've navigated through mastering the art of Amazon Posts. Understanding its function, initiating its setup, crafting captivating content, optimizing for maximum visibility, and diligently monitoring performance all serve as vital pillars in fully harnessing this tool. Sidestepping common mistakes and gaining wisdom from successful practices will further bolster your Amazon Posts strategy.
Ready to take your Amazon business to the next level? Start implementing these Amazon Posts strategies today!
Looking for more insights or need professional assistance? We encourage you to schedule a strategy session with us today. We're here to help you succeed!
Resources
(you may need to log into seller central to access these resources)
Guidelines to grow your followers using Posts and Stores
Engage Shoppers with Posts, Live and Brand Follow
How to Create Your First Post on Amazon
Amazon Posts: FAQ
What does Amazon Posts cost?
The great news is that Amazon Posts is currently a free promotional tool for brands registered with Amazon's Brand Registry.
Are there any requirements for brands to utilize Amazon Posts?
Yes, there are a couple of key requirements. The brand must be enrolled in Amazon Brand Registry and should also have the 'US' marketplace selected.
Where can potential customers discover my brand's Amazon Posts?
Your brand's Amazon Posts can appear in various sections across the Amazon mobile shopping app and on Amazon.com. These include product detail pages, related product feeds, category-based feeds, and the Amazon Store Post Feed.
Can I expect any metrics or analytics for my Amazon Posts?
Yes, Amazon provides a range of metrics for your posts. You can view impressions, reach, engagement and clicks - directly on your Amazon Posts dashboard.
Can I remove or edit an Amazon Post once it has been published?
Yes, you have the option to edit or remove a post if necessary.
Can I schedule Amazon Posts?
Yes, You can schedule your post for a future date, or simply choose the publish upon approval option.
What types of products can be tagged in Amazon Posts?
You can tag any product that is associated with your brand and available on Amazon. The post will then link back to the product detail page for that item.