Our Proven
PPC Management Process
Adverio utilizes the full scope of capabilities available on Amazon's Advertising Platform.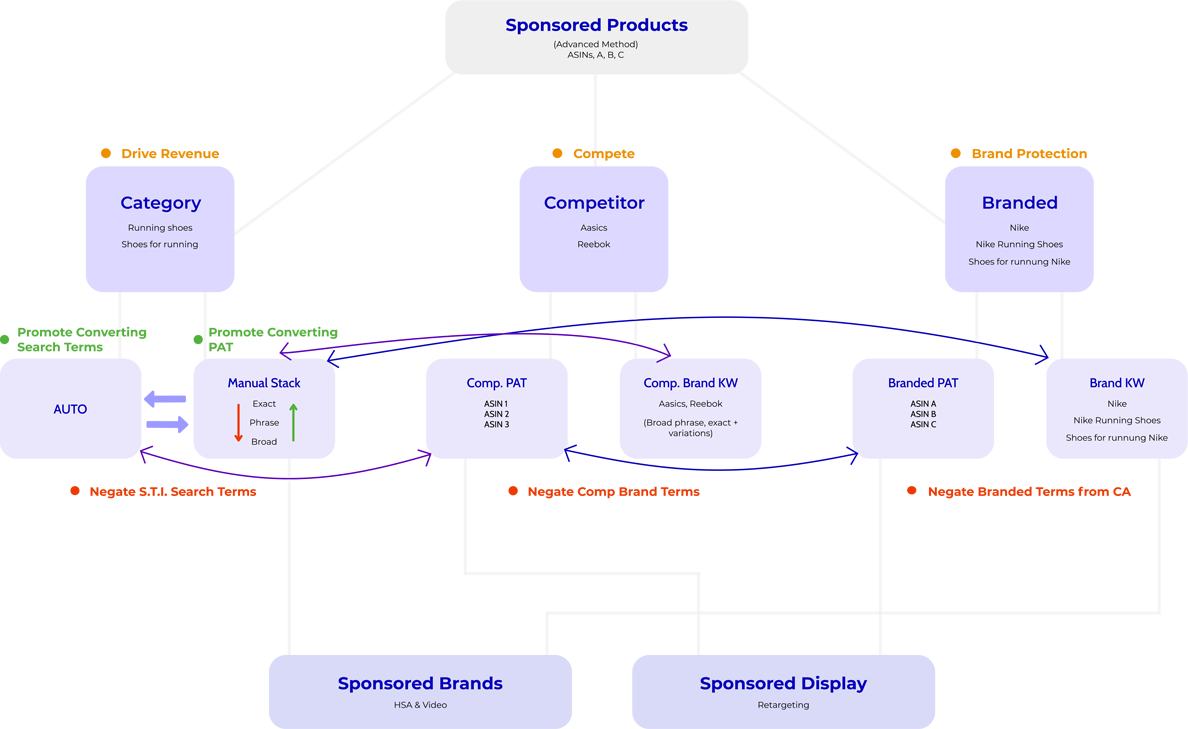 Sponsored Products
1. Auto
The Auto campaign is where Amazon automatically matches your product to customer Keyword Searches, as well as displays your ad on competitor products. This campaign is used for ongoing research, where we then filter in the data from targets that convert into the Manual campaigns.
2. Manual
This campaign targets Keywords & customer search phrases related to your product in Broad, Phrase and Exact Match types. This will typically be the campaign driving most of the sales volume.
3. Competitor Manual
This is where we target competitor brand names, looking to take incremental sales from searches looking for competitor products. This is an "add-on" strategy, that is usually very low volume, but can add incremental sales.
4. PAT
This is a competitor Product Targeting campaign. This campaign serves your ad on competitors' product detail page as an alternative to that product. These can be relatively high volume once we get a stable of competitors targeted which your product sells well against.
5. Branded Manual
This campaign targets your own brand name. This helps to defend against competitors who will also advertise for your brand name trying to steal your sales. This campaign makes sure that your product shows up instead of a competitor's when buyers search your brand name.
6. Branded PAT
This campaign advertises one product on another product's listing, within your brand. This helps keep potential buyers in your brand space if they end up clicking an ad on your page, hopefully leading to a sale of one of your alternatives. Essentially, this is cross-selling across your product line.
Sponsored Brands / Video Ads
Sponsored Brands – Headline Sponsored Ads (HSA), Product Collection & Store Ads. HSA ads show your related products as a collection at the top of search results, driving high sell-through & brand recognition.‍
Sponsored Video – Video Ads are highly engaging and show up to a 45 second video within search results. Sponsored Brands video ads are quickly becoming an important part of building a robust Amazon advertising effort. Video ads produced a CTR more than 350% higher than static Sponsored Brands ads while also driving a conversion rate that was 38% higher than static ads.
Sponsored Display
Sponsored Display – Retargeting & Product Targeting: Both of these strategies retarget visitors who visited your page or a competitors page, but didn't make a purchase. These ads follow potential buyers around Amazon, and are typically another low volume, incremental strategy, with low ACOS.
Stop Making
The Same Mistake
As a Business Owner you only have so much time in the day to dedicate to marketing. The last thing you want to do is waste precious time learning about Amazon PPC on Youtube or Google, or spend countless hours hiring and firing freelancers who overpromise and underdeliver.
A better use of your time is to hire reliable, professional, Amazon experts to do all of the heavy lifting for you. Scale your Amazon sales profitably and
save valuable time with Adverio. Chat with us today!