Amazon recently released a new feature called the Amazon Manage Your Customer Engagement Tool (MYCE). Similar to Brand Tailored Promotions, this tool enables brands to better engage with their defined audiences.
While Brand Tailored Promotions appear as discounts on product pages and Amazon search results, MYCE operates a little differently. With this feature, brands can send promotional email campaigns to their target buyers directly from their Amazon Seller central console.
If you're looking to ramp up customer engagement and optimize your outreach efforts, MYCE can be a game-changer. The ability to directly market to Amazon customers allows you to reach new and existing customers, build brand loyalty, and expand the visibility of new product lines.
Until now, Amazon had strict guidelines around how brands could communicate with their customers using the platform. Specifically, the website prohibited companies from distributing marketing or promotional messages in any form. Customers may have received updates on new products or notifications about special brand sales, but those messages were sent from Amazon, not the brand.
With MYCE, the ability to directly engage with your target audience is now in your hands. You can create dynamic emails to catch the eye of your buyers and help your products stand out in the crowded e-commerce space. The tool also allows you to add captivating product imagery, detailed descriptions, and even your brand logo in each message.

This comprehensive guide includes all of the information, tools, and resources you need to use MYCE effectively. You'll learn:
All of the features that MYCE entails

How the program works

Different audiences you can reach with MYCE

Various metrics you can track to analyze performance and success

Different types of outreach you can send in addition to emails

How to implement MYCE for your brand

Best practices to follow when using MYCE

How MYCE can complement your existing Amazon marketing approach

How to use MYCE in tandem with Amazon Advertising
With this information, you'll be ready to use this latest feature to catapult your brand to newfound Amazon success. Let's get started and check out how MYCE can become one of your brand's most valuable new tools.
What Is the Amazon Manage Your Customer Engagement Tool?
On a regular basis, Amazon rolls out new tools and features designed to help brand-registered sellers achieve more growth and connect with their customers. The MYCE tool is one of those new features. Manage Your Customer Engagement (MYCE) expands on the current suite of customer engagement tools available to brands on Amazon, including Amazon Advertising, Brand Tailored Promotions, Amazon Posts, Amazon Stores and more.

With this free tool, sellers can improve and expand the functionality of their Amazon Storefronts. Before MYCE, brands could not send any type of marketing or promotional messaging to their buyers. Now, they can set up email marketing campaigns that directly target their Amazon followers and past purchasers.
The emails can be fully customized to showcase a retailer's unique branding, along with their latest products and promotions. Once the campaign is up and running, retailers can use MYCE's provided metrics to track how well the messages are doing and where they need to tweak their approach.
Currently, MYCE supports and allows the following types of messages:
Marketing a Product: Highlight up to five products or any eligible Best Deals

Promoting a Promotion: Advertise a Percentage Off promotion
There will be more creative options added in the future, but these templates alone offer retailers plenty of opportunity to share their latest updates and generate brand buzz.
Who Can Use MYCE?
Before brands can begin using the Amazon MYCE tool, they must meet a few criteria. To be eligible, you must:
Right now, this tool is set up to help established Amazon sellers take their buyer engagement to new heights. If your store hasn't gained much traction yet and you're still growing your followers, you may find more value in using other Amazon engagement tools, such as Amazon Posts.
If you haven't registered your brand yet, you'll need to do that before you can begin taking advantage of MYCE. Visit the Amazon Brand Registry page to complete the quick and simple process.
Which Products Can I Advertise?
Before using MYCE to advertise or promote your Amazon products, make sure they meet the site's acceptance criteria. To qualify, each product must:
Be eligible for advertising (per Section 4 of Amazon's Sponsored Ads Guidelines)

Be a child ASIN (not a parent)

Be a standalone product (not part of a bundle)

Be an ASIN with at least 10 units in stock before, during, and after the campaign
What Customer Segments or Audiences Can I Target?
Amazon MYCE allows granular targeting by letting brands choose audiences based on purchase history and behaviors.
You can target 4 main audience groups:
Repeat Customers

: Reward loyalty, deepen relationships, and encourage further purchases among those who've ordered your products multiple times in the last year.

High-Spend Customers:

Engage with the top 25% of spenders to fortify relationships, create brand advocates, and drive repeat purchases. Campaigns will be sent to a 5% sampling of this audience.

Recent Customers:

Nurture relationships with the most recent 20% of buyers and inform them about your brand's offerings. Campaigns will be sent to a 5% sampling of this audience.

Brand Followers:

Strengthen connections with those who follow your brand on Amazon, whether or not they've made purchases. Keep them informed about your brand's offerings and special deals.
Where Will Customers See MYCE Promotions?
The only channel for discovering the MYCE deals is through targeted emails sent by your brand. This allows proactively reaching customers vs. waiting for them to find offers organically. For each promotion, your brand can create an email with:
A compelling, personalized subject line – Exclusive Discount for [Customer First Name]!

Clear call-out of the customer segment – As a repeat customer, you qualify for…

Details of the promotional offer and any terms

'Shop Now' button driving to your product listings

Brand assets like logos, banners, messaging

Opt-out option for customers to manage communication preferences
The customized content and direct reach make email the ideal vehicle to convey deals to selected audiences. This drives traffic to your products, enabling you to boost engagement and sales.
How to Set Up Your First MYCE Email Campaign
Once you've determined that you're eligible for MYCE, the next step is to set up your first campaign. When you're ready to get started, the campaign creation process is easy and only takes a few steps. Let's take a look.
Choose Your Shopping Event Theme
You don't have to select a theme for your email, but doing so will enhance its visual style. This makes your content stand out and helps it look more engaging.
Select Your Campaign Type
You can either choose to "Market a Product" or "Promote a Promotion". Marketing a product is straightforward following the steps below, while promoting a promotion requires you to activate an eligible promotion through the Seller Central > Advertising > Promotions tab first.
Choose Your Primary Product
Each MYCE email you send will highlight or feature a primary product, such as a gift idea or a new product launch. If you're running a promotion that includes the product, you can also include those details.
Add Promotional Details
MYCE allows brands to add special promotional details about the primary product they wish to highlight through MYCE. You can select eligible details when you enter the primary campaign's ASIN and click "Submit". To be eligible, the promotion must meet the following criteria:
Be designated as a "7-Day Deal"

Be active for at least the duration of the email campaign, starting at midnight (PST) on the selected start date or before, with a scheduled end date six days or more away

Have been created at least 24 hours before launching the campaign

Fit within your Shopping Event timeline (if applicable)
Brands that just created an Amazon promotion will need to wait 24 hours or more before they can select that promotion in their MYCE campaign creation process. If the chosen theme was "Shopping Event", then you can only choose the eligible promotion that is currently running during the event's time window.
Once you click the "Submit" button, a window will appear that allows you to choose the details you want to enter for eligible promotions. If your current promotion doesn't meet the criteria above, you will not be able to add details.
Choose Your Supporting Image
Within your email, you can include a product image or a lifestyle image that goes with the message. To be eligible, the image you select must meet Amazon's product image requirements.
Choose Your Supporting Products
In addition to your primary product, you can also add up to four supporting products in your MYCE campaign. While this step is optional, it's a helpful feature to use, especially if you want to showcase complimentary products or other brand items you think your customers might be interested in.
Schedule the Campaign
Next, choose the date that you want your MYCE campaign to begin sending emails. The emails will be sent over a five-day period, beginning on the first day you select.
Once you've set everything up for your campaign, Amazon's moderation team will review it. This process will take at least 72 hours to complete. When creating your schedules, be sure to add this review window to the timeline.
Configure the Details
There are a few final details to put in place before you can begin implementing your campaign. First, choose the subject line. This is the line your recipients will see in their inbox.
Then, choose the section header. When someone clicks on the email, this is the first visible text they will see. You can think of this as your headline, where the most important information should go. For instance, it might say "New Product From Our Brand" or something similar to summarize the content below.
Add Your Brand Logo and Choose a Header
If you want to add a brand logo to your emails, make sure they meet the following Amazon requirements:
Horizontal layout (3:1 or narrower)

Black or white background (JPG)

Optional transparent background (PNG)
The standard options for your email header are a light or dark version. This can change depending on the event theme you choose.
Name Your Campaign
Finally, choose a name for your campaign. This will be helpful when tracking its progress and results. This name will only be visible to your in-house team and your customers will not see it.
Scheduling & Sending Your Campaign
During the "Campaign Delivery Window" step of campaign creation, you can designate the date when your campaign will deliver to customers.
Your campaign will be distributed to customers over 5 days, starting from your selected date. When using the date picker, you'll notice various colors that signify potential scheduling conflicts with other campaigns:
Grey Dates:

These dates are unavailable for selection. We require a 6-day period for campaign moderation and preparation before sending it to customers.

Green Dates:

These dates are open for selection and do not overlap with any other campaigns you've created.

Yellow Dates:

These dates are also available for selection but will overlap with another campaign you've scheduled. You can opt to schedule your campaign for these dates, but please be aware that its reach may be impacted by the overlapping campaign.
Important note: If you opt for a shopping event theme, your campaign scheduling window will be limited to the timeframe of that specific shopping event. Additionally, if you have included promotional details for your primary ASIN, your campaign scheduling will be further restricted to fall within the start and end dates of the selected promotion.
Campaign Approval Process
All campaigns undergo a thorough review by our moderation team to ensure they align with our content requirements. Please note the following regarding the campaign approval process:
Review Duration:

Expect a minimum 72-hour image asset review when scheduling campaigns.

Planning:

Allow ample time for review during scheduling to ensure timely deployment.

Suspension Handling:

Rejected campaigns will be "suspended." Create a compliant campaign to proceed.
Pro Tip: Plan ahead to make sure your MYCE Campaigns go live on time!
Here's an example of what an MYCE Email could look like: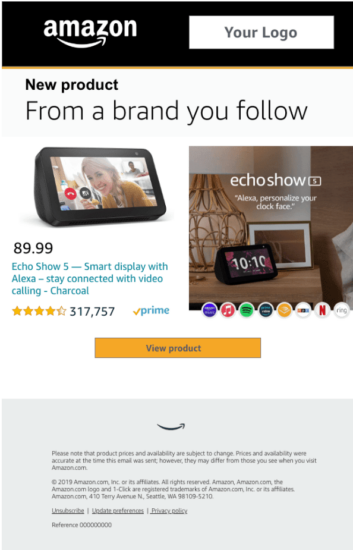 What Metrics are Available to Track the Success of Your MYCE Campaigns?
Once your MYCE campaign is live, you can track certain metrics to gauge performance and look for areas of improvement. Key ones to monitor include:
Number of emails delivered

Click-through rate

Open rate

Opt-out rate

Total brand sales

Conversion rate
Optimizing your campaign will help you improve your click-through rate, reduce opt-outs, and understand the type of content that best engages your audience.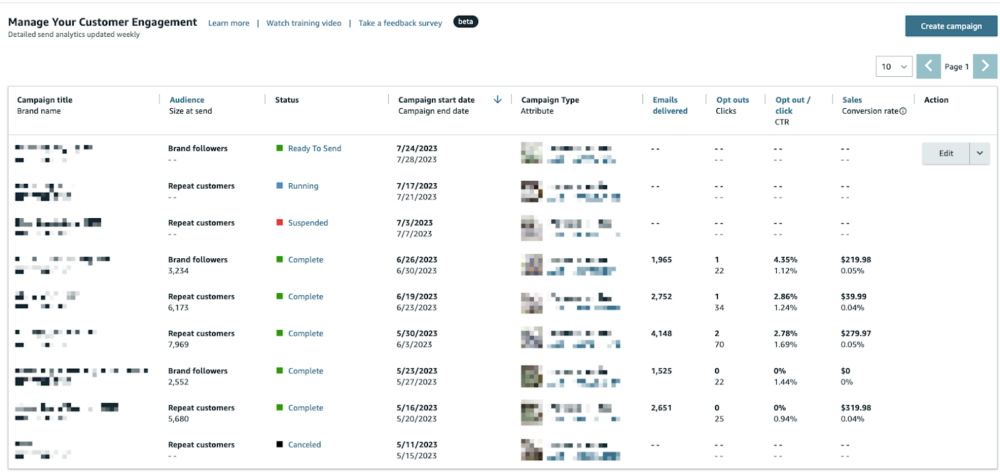 Best Practices for Amazon's MYCE Promotions
To increase the effectiveness of your MYCE campaigns, here are a few best practices to follow:
Promote deals or new products over existing products. Create a sense of urgency or excitement in your messaging to encourage customers to make a purchase right away, for example by using a 7-Day Deal promotion

When choosing imagery for your product, focus on lifestyle photos that show the product in use. This enables the customer to visualize themselves using the product, making them more likely to make a purchase.

Aim to send one promotional email per week for each of your brands. Scheduling them more often means Amazon may not send them out due to frequency limits. Scheduling them less often means you may miss sales opportunities. Additionally, use MYCE metrics to see what day of the week has the highest customer engagement.

Use a quality brand logo so you stand out. Using a transparent background ensures it is visible in both light and dark modes.

Advertise your MYCE promoted products. Running MYCE alongside Amazon Advertising will significantly boost your brand's visibility, drive sales, and maximize your ROI on the Amazon platform.
Take Full Advantage of Amazon's MYCE with an Expert
Amazon's Manage Your Customer Engagement tool is a great resource to expand your sales and more effectively reach your customer base. The tool allows you to directly communicate with your followers about your products and deals, customize the audience who receives your campaign messaging, and push out reminders about ongoing sales to drive conversions.
Want help setting up MYCE or using it effectively? See if you qualify by scheduling a consultation with one of Adverio's Amazon Marketing experts.
Frequently Asked Questions
Can I use Amazon MYCE if I'm a small seller or a brand-new Amazon seller?

Yes, Amazon MYCE is accessible to both small and large sellers. It gives a scalable solution that can be customized to your particular needs. Whether you're just starting out or expanding your brand's reach, MYCE offers valuable tools for customer engagement.

How can I measure the success of my MYCE campaigns?

MYCE provides detailed analytics and reporting to help you evaluate the performance of your campaigns. Key metrics to track include click-through rates, open rates, conversion rates, and revenue generated. Use these insights to refine your strategies for better results.

What is the difference between Amazon Brand Tailored Promotions and Amazon MYCE?

Amazon MYCE is a new feature recently deployed by Amazon that enables Brands to engage with defined audiences via promotional Email campaigns sent directly from the Amazon console. In contrast, Amazon Brand Tailored Promotions are promos seen mainly on the product page and in Amazon search results. Read more about

Amazon Brand Tailored Promotion here

.

The Manage Your Customer Engagement tool is available to registered brands with an Amazon Stores page with Brand Followers. If you are not a registered brand, visit the

Amazon Brand Registry

to see your eligibility. Once you have a Stores page, create a post with engaging content to increase your followers. Read more about why a brand registry with Amazon is important

here

.

Does MYCE support all the products?

The Manage Your Customer Engagement program (Amazon MYCE)currently supports 7-day deal details, new product announcements, and gift event guides. More options will be included in the future.

How to Access Tailored Audiences:

Tailored Audiences is currently in beta and available to select brands with a strong history of customer engagement. To be eligible, your brand should have:
Sent at least 10 customer engagement campaigns, each with a minimum of 1,000 emails sent, over the last 10 campaigns.
Your average opt-out-to-click rate should be less than 1% across these campaigns.
How do you manage overlapping campaigns?

You can plan one campaign for a specific group of people during their "campaign frequency" period. For instance, you can reach out to your brand's "repeat customers" every 14 days with a campaign. You can also schedule campaigns that overlap but target different groups. However, each customer will only receive one email from your brand within a 14-day timeframe, even if they were eligible for multiple campaigns.

Audience size is the number of customers who fit the criteria for a particular audience. These are the potential recipients of a campaign aimed at that audience. The audience size might change from when you create the campaign to when you actually send it because more customers may match the criteria, or some customers may no longer meet the criteria during that time. Note: To send customer engagement campaigns, your tailored audience must have at least 100 customers.

Will my campaign be sent to everyone in the audience?

Your campaign will be sent to all customers in your audience unless they have:
Opted out of receiving email marketing communications.
Not opened or clicked on any Amazon emails in the past year.
Not made a purchase in the past two years.
Purchased any product (excluding variations) featured in the campaign in the past two years.
You've chosen a tailored audience limited to a 5% sampling of the total audience.